This is a fully automatic wire number hot stamping and stripping machine. This machine is based on the W116 series wire stripping machine with the added wire number hot stamping function. The wire number hot stamping machine can also be used on other types of wire stripping machines of our company. It adopts the principle of ribbon heat transfer printing to hot stamp the wire number on the wire. The color of the characters depends on the color of the ribbon, and the common ones are black, white, red and so on.

The hot stamping position of the wire number can be set in the program, and it supports hot stamping of the wire number at multiple positions on a line, and the hot stamping character content can be manually adjusted by rotating the font. The size of the characters needs to be customized according to the wire diameter. If you want to change the size of the characters, you need to replace the hot stamping machine. The number of characters can also be customized according to needs, and a maximum of 50 characters can be hot stamped at one time.

The program interface is intuitive and easy to understand. Parameters such as cutting line length, stripping length, feed depth, retraction, and output can be freely set in the program. Functions such as long wire program, ultra-short wire program, middle stripping program, and sheath wire program can be switched at will, and one machine supports many different processing methods, which is very versatile. With the program memory function, the processing parameters of different wires can be saved in different program numbers, and the corresponding processing parameters can be called out with one key when switching wires.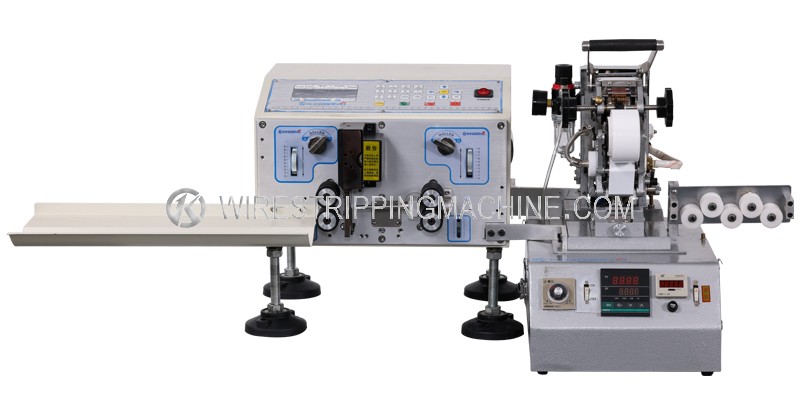 Applicable wire core area: 0.1 ~ 10.0mm² (AWG28~7)
Maximum catheter diameter: Φ10.0mm
Cutting length range: 0~100m
Cutting length accuracy: ±0.002×L (L means cutting length)
Stripping length range: wire head 0~120mm, wire tail 0~35mm
Minimum glue length: 35mm
Program memory function: up to 100 groups of programs can be saved
Working voltage: 220V/50Hz
Rated power: 430W
Air pressure: 0.4~0.6Mpa
Net weight of stripping machine: 30kg
Stripping machine size: 400x410x280mm
Net weight of hot stamping machine: 20kg
Hot stamping machine size: 355*280*360mm