This is a fully automatic laser marking and stripping machine, which can complete wire cutting, two-end stripping, and UV laser marking at one time. It can process 2 wires at the same time, and the production efficiency is high. This machine adopts belt feeding instead of traditional roller feeding, which greatly increases the contact area with the wire. While increasing the tension and enhancing the stripping ability, it can also reduce the pressure and reduce the damage to the surface of the wire sheath. There is no indentation on the surface of the wire sheath. The blade carrier is driven by high-precision servo motor, which is fast and powerful.

The upper and lower sets of wire feeding wheels are driven by positive and negative screw rods, which can be opened and closed at the same time. When processing wires of different thicknesses, the centerline position of the wires can always be kept unchanged, and the wires are always aligned with the center of the knife edge, which can effectively prevent The stripping port is inclined. The pressure of the wire feeding wheel can be set directly in the program, no need to manually adjust the screw, it is very convenient to switch between different wire diameters.

This machine also has the function of automatic pulley and jump guide. The automatic pulley means that the outlet pulley can automatically open for avoidance when stripping the wire head.The jump guide function means that when the end of the wire is stripped, the wire inlet conduit is automatically lifted to avoid it, which greatly increases the stripping length range.

The program memory function can store the processing parameters of different wires in different program numbers, and the corresponding program can be called out with one key when processing the wire again. One machine can complete the processing of various wires, which is very versatile.

Support non-standard customization, we have strong research and development capabilities, and can customize special functions according to customer needs. Common optional features include:
Customized blades and conduits with special shapes are used to process flat sheathed wires, double parallel wires, flat wires and other wires. Flat sheathed wires can achieve inner and outer skinning.

Add a rotary blade to strip the wire, first use the rotary knife to cut the wire sheath 360 degrees, and then pull the wire sheath off, to deal with the occasion with strict wire stripping requirements.

A scribing jig can be added. For wires with a long stripping length and a tight sheath, the scribing jig can be used to split the wire sheath on both sides to reduce the stripping resistance.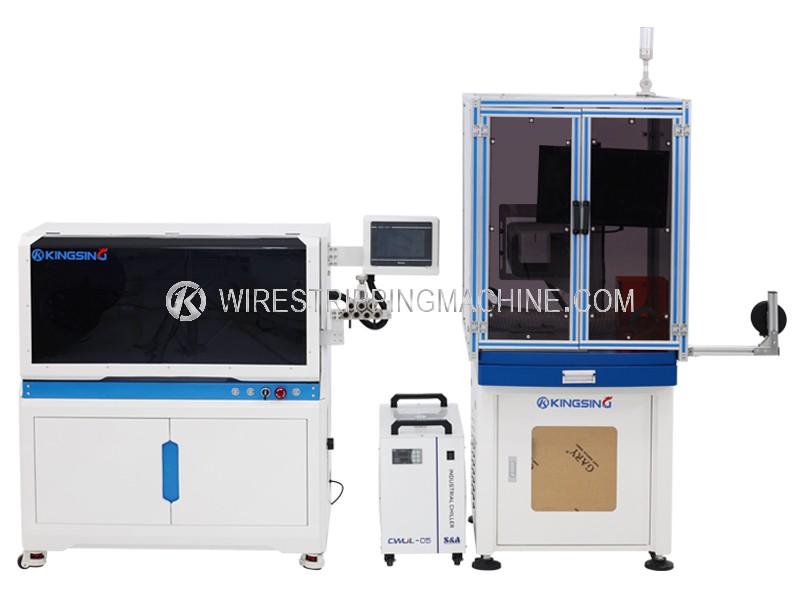 Applicable wire diameter: single wire 2~70mm2, double wire 2~25mm2
The maximum diameter of the catheter: the maximum diameter of a single wire is Φ25mm;the maximum diameter of a double wire is Φ12mm
Full stripping length range: wire head 0~220mm, wire tail 0~100mm
Maximum half-stripping length: wire head 1000mm, wire tail 400mm (according to wire material)
Minimum glue retention length: 120mm
Maximum cutting length: 1000m
Laser marking machine: UV laser marking, wavelength 355nm
Operation interface: 7-inch color touch screen (optional with industrial control computer system)
Program saving: up to 100 groups of programs can be stored
Cutting accuracy: 0.002*L (L refers to the length of the cutting wire)
Working voltage: 220V 50/60Hz
Stripping machine size: 1100*630*1150mm
Stripping machine weight: 239kg
Laser marking machine size: 1110*890*1690mm
Laser marking machine weight: 130kg
Laser machine water tank size: 600 * 300 * 530mm
Weight of water tank of laser machine: 27kg